Skip to Main Content
It looks like you're using Internet Explorer 11 or older. This website works best with modern browsers such as the latest versions of Chrome, Firefox, Safari, and Edge. If you continue with this browser, you may see unexpected results.
Using Google Slides to Create your Poster
Poster Tip ... in a poster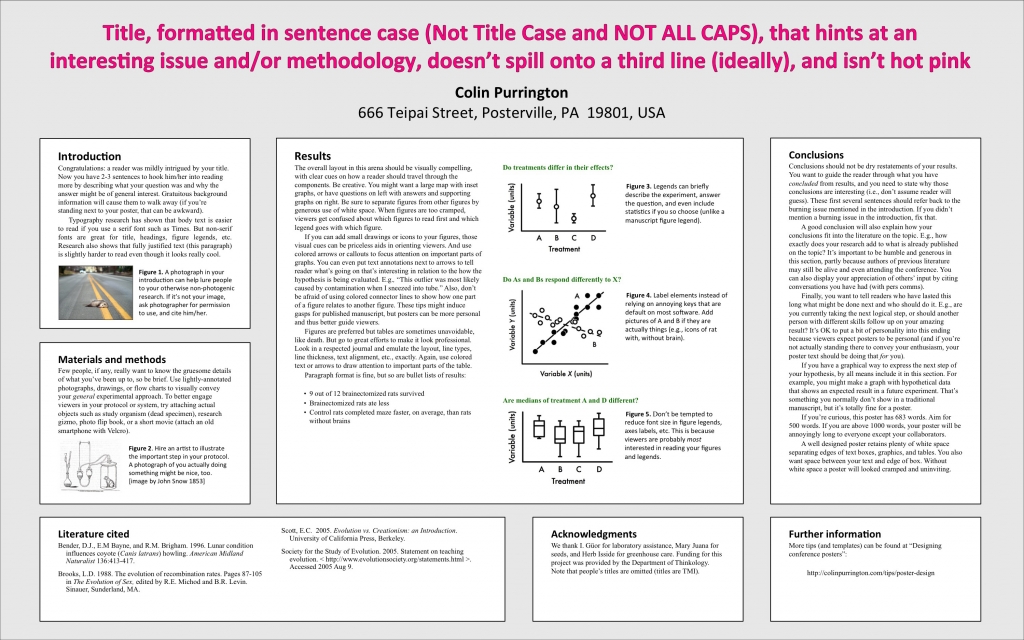 Thanks to @collinpurrington Check out his website, Designing Conference Posters, for more great ideas
Poster Tips
Posters are visual presentations - the text and graphics should support each other
Sketch your design arranging your sections in 3 or 4 columns; following a logical sequence
Get to the point and LIMIT your text. Use photos, figures, and tables to tell your story
Use only 2-3 colors
Suggested Typefaces

Trebuchet

Verdana

Tahoma

Ariel

Lucida Sans

Type Sizes (approx)

Title 80pt
Authors 60 pt
Headings 60 pt
Main Text 32-36 pt
Captions 32 pt
Works Cited 24 pt
Poster Sections
Main parts of your poster may include:
Title
Introduction
Methods
Results
Discussion of Result
Conclusion
Works Cited
Further information
Printing Your Poster
Here are some local options. We do not endorse or recommend these businesses but provide this list as options for your project. Check for online coupons to save some costs $$$
Printing Tips:
Design your poster to size you want to be printed (you can just enlarge an 8.5 x 11 document - just watch for image distortion)
Create or Save your poster in file type acceptable to your printer. (usually .ppt, PDF or .jpeg)
Your screen colors are in RGB and printer colors are CMYK
chat loading...